Monday, 16 June 2008
img src="http://www.grammarblog.co.uk/z_images/banners/v2launch.gif" border="0" title="We've moved to www.grammarblog.co.uk" alt="We've moved to www.grammarblog.co.uk" /> This magnificently insane comma usage was discovered upon my most recent trip to
Windy Harbour
, my local chippy in south Manchester.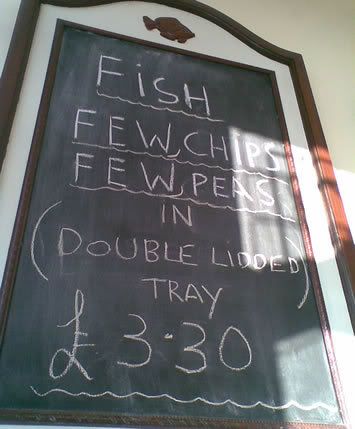 I can't fault their heavenly chips or their wonderfully crisp battered cod, but what possessed them here? As if this scatterbrain punctuation wasn't enough, when I then slumped against the counter to recover my breath I was faced with this on the menu board:
The spelling. Why not just copy the word 'sausage' from the entry above? And yes, those really are "unnecessary quotation marks" encompassing the word 'batterd'. Perhaps my chipmonger was
batterd
on booze when he did it. It's the only rational explanation.
Labels: commas, quotation marks, spelling
Subscribe and Share
Subscribe via Email
Share via social media
Follow us on twitter
Grab our widget
Follow our tumblog
Find us on Facebook
GrammarBlog Shorts
Previous Posts
Reading List
It's not just you