Thursday, 18 October 2007
img src="http://www.grammarblog.co.uk/z_images/banners/v2launch.gif" border="0" title="We've moved to www.grammarblog.co.uk" alt="We've moved to www.grammarblog.co.uk" />
In my professional life I work for a digital marketing agency, and as a result I spend a lot of time on the internet.
Therefore I'm usually pretty up to date with the latest
memes
but
this
one completely passed me by until a GrammarBlog reader called Alex brought it to my attention.
Apparently the 'Get a Brain! Morans' thing is quite old now but it caused
quite a stir
, especially as there are some accusing those dreaded "liberals" of forging the picture to make pro-war Americans appear stupid. [Insert joke here.]
While we're on the topics of spelling and memes, I might as well share some of my favourite
lolcats
with you.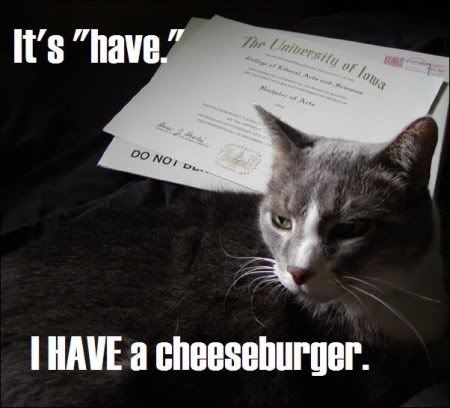 Read more about lolcat grammar
here
.
I know it's all just a bit of fun but I often think that internet meme contributors should take more care with their spelling, punctuation and grammar. Take this for example:
This example of the ever-recurring your/you're error is the perfect excuse to get the Hoff onto GrammarBlog. There are
many
reasons
why
I like him, none of which is rational or reasonable.
Labels: apostrophe abuse, lolcat, memes, photos, spelling, The Hoff, top ten
Subscribe and Share
Subscribe via Email
Share via social media
Follow us on twitter
Grab our widget
Follow our tumblog
Find us on Facebook
GrammarBlog Shorts
Previous Posts
Reading List
It's not just you