Friday, 28 March 2008
img src="http://www.grammarblog.co.uk/z_images/banners/v2launch.gif" border="0" title="We've moved to www.grammarblog.co.uk" alt="We've moved to www.grammarblog.co.uk" />
Apologies for the lack of posts recently; we've all been terribly busy. In the absence of a well written and humorous post,  I hope you will enjoy these grammar-based cartoons.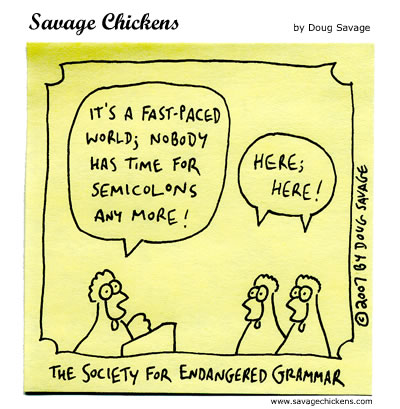 From savagechickens.com.
I think this is from xkcd but I'm willing to be proven wrong. I agree wholeheartedly with the premise. I mean I agree with the use of "they" as a third person, singular, gender free pronoun as opposed to the global bicuriosity. Although there's something about Russell Crowe in Gladiator that... never mind.
I found this on a recruitment site but I don't know the true origins.
I hope you all had a good Easter. Do please keep sending in your photos and queries; we'll try to get around to them in due course.
Labels: cartoon, prepositions, punctuation, semi-colon, they
Subscribe and Share
Subscribe via Email
Share via social media
Follow us on twitter
Grab our widget
Follow our tumblog
Find us on Facebook
GrammarBlog Shorts
Previous Posts
Reading List
It's not just you